Ready for your summer holidays?


CoolSculpting® in Calgary
Professional Non-Surgical Fat Reduction & Body Contouring
Calgary CoolSculpting is a proven, non-surgical fat removal procedure that uses cooling to permanently eliminate stubborn fat. CoolSculpting treatments at our medical spa provide long-term solutions to reduce stubborn fat, contour your body and help maintain a trim figure.
Ageing, weight fluctuations, changes in muscle mass, exercise frequency, and genetics all affect body shape. A healthy balanced diet, maintaining weight, and being committed to daily exercise contribute to having a trim figure. We may need extra help with particular areas where we tend to have sagging skin and diet-resistant fat pads.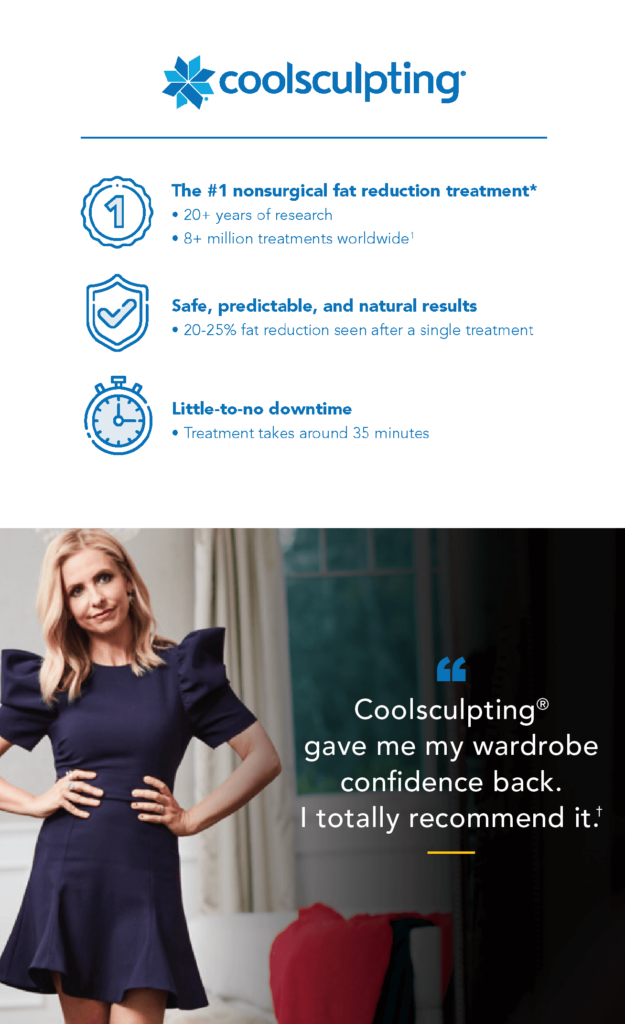 Calgary CoolSculpting Results
This proven fat reduction treatment is the only Health Canada-cleared procedure to use controlled cooling to safely eliminate diet and exercise-resistant fat.
Results are proven, noticeable, and lasting, so you'll look and feel great from every angle. We will develop a customized treatment plan that addresses your problem areas.
Proven by dozens of studies and millions of successful treatments, this is a great way to achieve a trim, healthy figure!
To book your Calgary Coolsculpting treatment, call our medical spa at (403) 237-8428.
Range $500 – $5000 depending on size and area.
Range for average abdomen: 4 – 8 cycles and usually 2 rounds, done 3 months apart.
Other treatments to enhance CoolSculpting®
Skincare recommendations with CoolSculpting®
How Does CoolSculpting Work?
The process is called cryolipolysis, which uses the cold's power to permanently eliminate fat. It was developed by Dr. Rox Anderson and Dr. Dieter Manstein after they noticed that children who frequently ate popsicles would lose cheek fat. Interested in the phenomenon and other similar cases, they set about seeing if the principle could be used on fat elsewhere in the body.
In their trials, the doctors realized that fat cells are much more sensitive to the cold than other cells in the body, and could be reduced with concentrated freezing. The doctors could safely target problematic fat cells by finding a specific temperature that only affects fat. Once fat cells were damaged by the cooling, the body would slowly remove the dying cells in the weeks following treatment, leading to pain-free, permanent fat loss.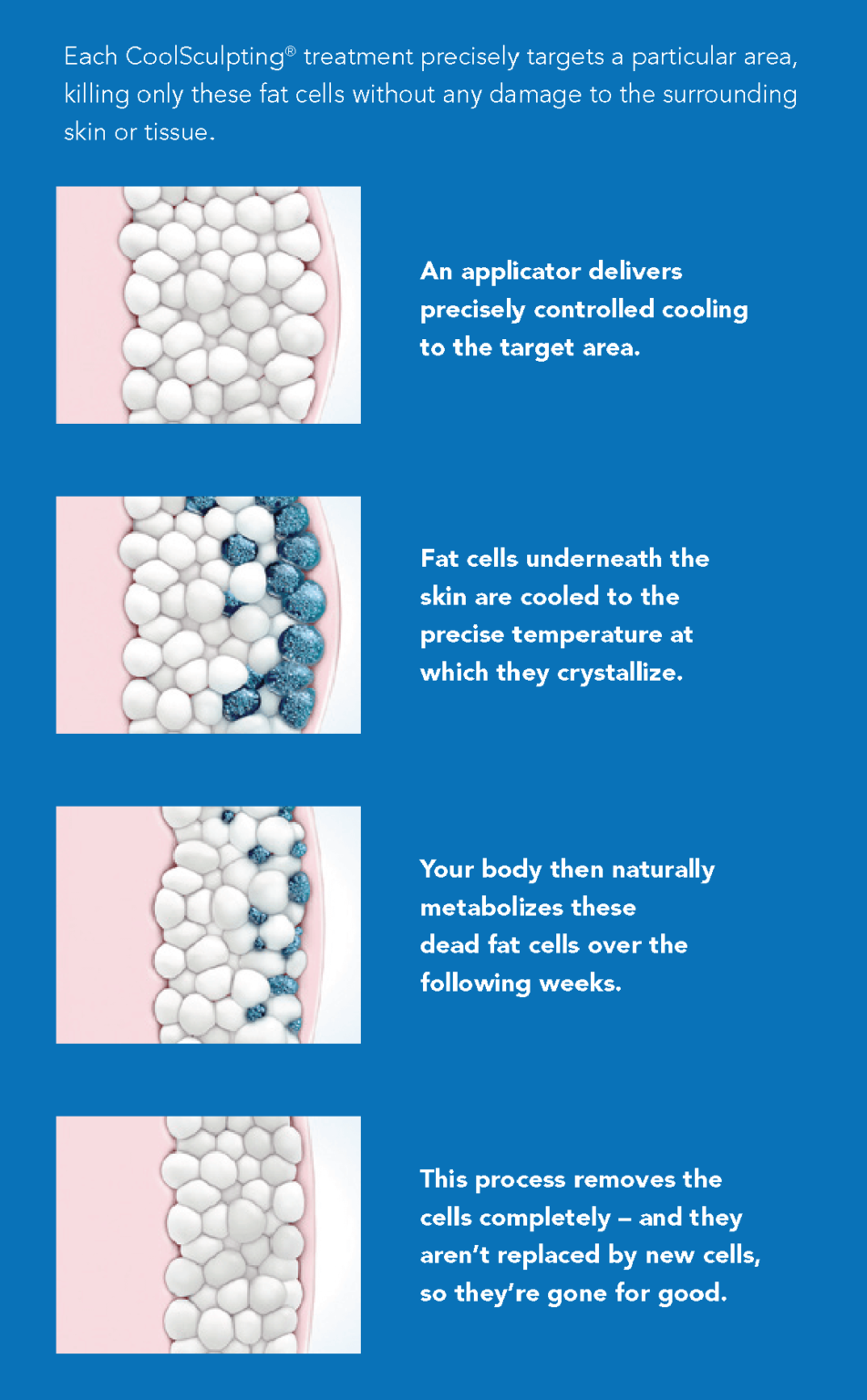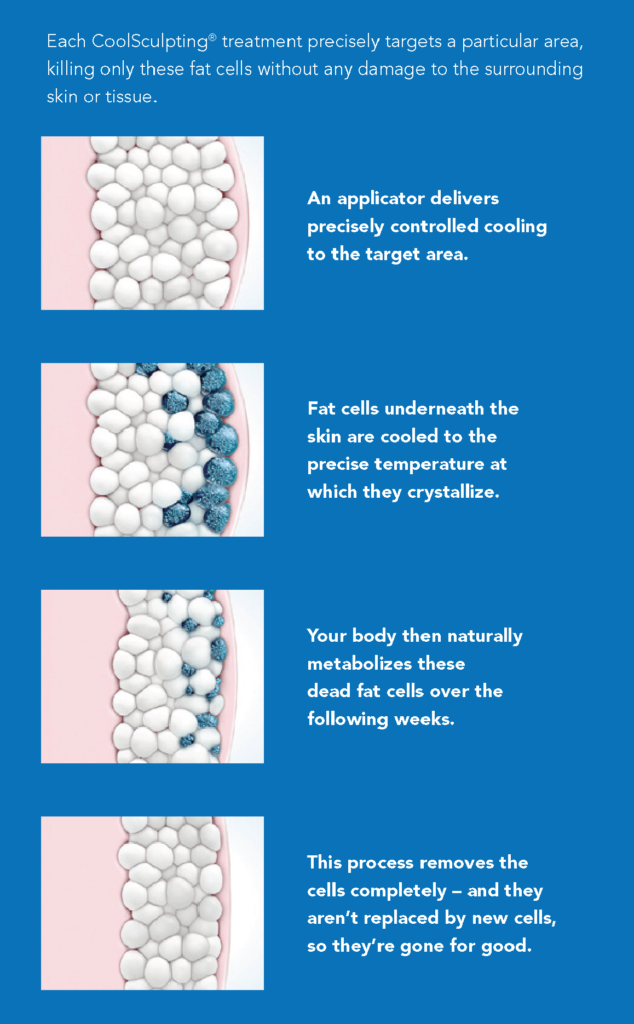 Following its 2008 approval by Health Canada, research about the efficacy of CoolSculpting only verified the results the doctors observed. Millions of successful treatments have been conducted worldwide, including extensive treatments in our clinic.
Benefits of Getting CoolSculpting in Calgary
At some point in our lives, most of us have noticed specific areas we would like to improve. Be it a bulge on our hips, a double chin, fat on our arms, or a protruding tummy, stubborn problem areas are pretty common. Even with diet and exercise, these areas just won't budge, which is where this treatment comes in. The system allows us to target stubborn fat pads over various parts of the body, and focus on body contouring.
Unlike liposuction, CoolSculpting is non-invasive, meaning you won't have to deal with surgery, needles, knives, anesthesia, or downtime. This procedure uses your body's natural metabolic processes to eliminate dead fat cells, improving your shape over time. And that fat loss is permanent, meaning you can enjoy long-lasting results from an average treatment of one or two rounds!
And if you think this process only has marginal results, think again! Just one session can result in up to a 25% reduction in fat on average, with each subsequent session offering additional benefits. This service is a simple, safe, proven method offered to help you get a natural-looking, fabulous physique!
What Parts Of My Body Can I Do CoolSculpting On?
One of the benefits of this procedure is that it can be done almost anywhere we tend to carry stubborn fat pads on the body. The system is designed to take care of stubborn fat wherever you need it gone. Common areas where we recommend CoolSculpting at our med spa for our Calgary clients include:
Abdomen
Back
Flanks
Chest
Thighs
Buttocks
Under the chin
Jawline
Upper arms
For most people, excess fat tends to accumulate in these areas and is very resistant to diet and exercise. These areas also keep people from having the figure they desire. After treating one body part with CoolSculpting, they will often choose a second and third area because they are so happy with the results.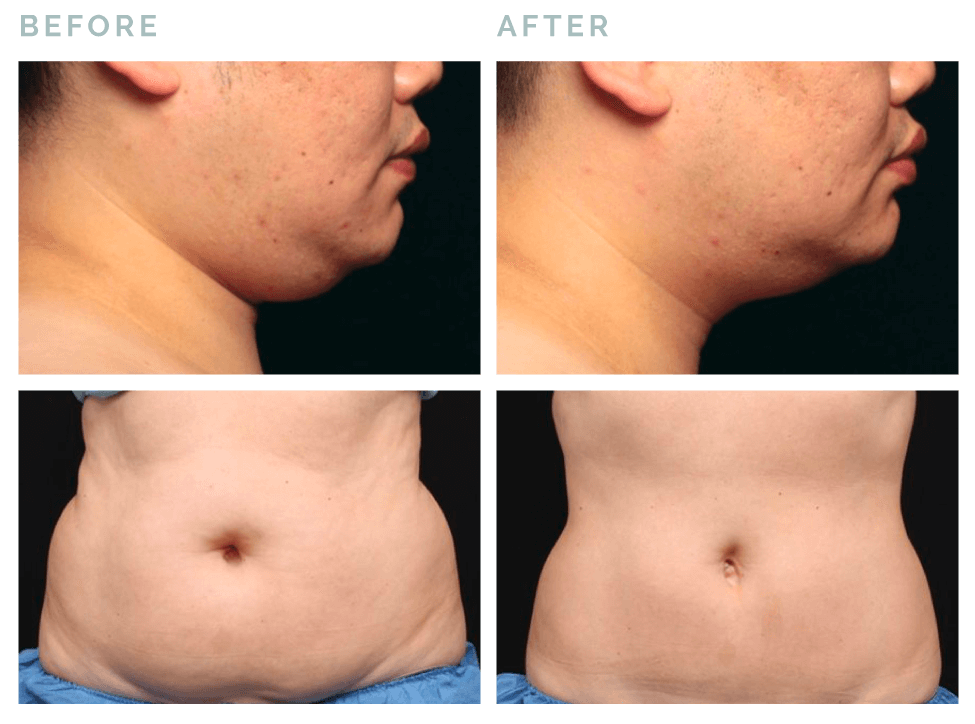 Book a consultation by calling our med spa at (403) 237-8428 today for your Calgary Coolsculpting treatment.


Our Different Body Contouring Devices
Vive Med Spa offers the full suite of CoolSculpting devices to Calgary, targeting any area of the body quickly and efficiently. The devices we have to offer include:
CoolMini
CoolPetite
CoolSmooth
CoolAdvantage
CooAdvantage Plus
Each applicator in the line fits expertly over different parts of the body, allowing us to target everything from small bulges to large pockets of fat. With precise, state-of-the-art technology, our team can freeze away your fat, no matter where it is!
CoolSculpting is a safe procedure backed by dozens of studies and millions of satisfied customers. The process utilizes cooling pads placed between the skin and the CoolSculpting device to ensure that only fat cells are damaged by the cold. Clients rarely have any issues following treatment. However, if you have any of the following conditions, this service may not be right for you:
Cryoglobulinemia
Cold agglutinin disease
Paroxysmal cold hemoglobinuria
Is There Any Down Time With CoolSculpting?
Nope! Another benefit is that there is no downtime. After each treatment, you're free to go about your normal activities. There may be some mild discomfort after treatment, but there are no restrictions on what you can do once you leave your appointment at our medical spa in Calgary.
How To Know If CoolSculpting Is Right For You
Most of our Calgary CoolSculpting patients are looking for body contouring and permanent fat loss, to achieve a specific physique. This service is not recommended for weight loss but is excellent for spot reduction. If you have problem areas that just won't seem to go away, then you may be the perfect candidate!
The CoolSculpting Process
The CoolSculpting process begins with a consultation, where we assess your health and wellness, discuss everything in more detail, and identify your goals. Then we plan the best course of action to achieve those goals by identifying which areas of the body to target for maximum contouring results.
The treatment itself is pretty simple. Once you arrive, we place a protective pad on the area of the body that we plan on targeting with CoolSculpting. Since the device gets very cold, padding is necessary to ensure that only the fat is affected. Once the pad is placed, we place the device on top, and it begins to work its magic. You will feel a slight tugging and cooling sensation with each applicator, which is not painful.
After anywhere from 35 to 70 minutes, we will remove the device and manually massage the target area to bring it back to room temperature. The massage helps kickstart the fat loss process, which will continue in the weeks following the procedure.

What To Expect After Calgary CoolSculpting Treatments
After your procedure, some mild pain, tenderness, aching, or stinging may persist for a few days to a few weeks. This is completely normal and will subside on its own. The target site may also experience some swelling, redness, and sensitivity, which will dissipate in the days or weeks after the procedure.
In the weeks following the CoolSculpting procedure, the targeted fat will slowly be processed by the body, after which an average of up to 25% of the targeted fat will be gone. Depending on your goals, we may suggest follow-up treatments (usually two rounds for the average area) to reduce fat in the desired area even more. After 1-3 months from the last treatment, the full results should be visible, and at that point, you will schedule the next round if needed.
Book A CoolSculpting Consultation in Calgary Today!
Interested in the groundbreaking technology of CoolSculpting? The team at Vive Med Spa medical spa in Calgary would be happy to help you achieve your body goals to be your ideal self! Call us at (403) 237-8428 today to book a consultation and get started on your body contouring goals!