Professional Botox in Calgary
Enhance Your Look & Erase Wrinkles with Botox
BOTOX® is one of the most widely known and reliable rejuvenation treatments currently available. Many turn to Botox in Calgary to turn back the time on aging by providing a natural and youthful appearance. This proven injectable has softened the look of wrinkles and fine lines for countless men and women.
Our clinic offers the best Botox in Calgary you can trust. Our physicians and registered nurses will assess your concerns, discuss your goals, and develop your customized treatment plan to help you achieve your rejuvenation goals with this world-renowned injectable treatment.
Call us today at 403.237.8428 to book a consultation to learn more about Botox treatment!
BOTOX COSMETIC® (onabotulinum toxin A) is a Health Canada-approved purified protein and neurotoxin injectable treatment to inhibit the facial muscles that cause fine lines and wrinkles.
The magic within Botox in Calgary lies in its ability to block signals from the nerves to the muscles targeted. Once injected, the targeted muscles won't be able to contract, meaning that wrinkles, forehead lines, and other facial issues can soften and relax. After your wrinkle reduction treatment, you should see this softening effect in the following days and weeks.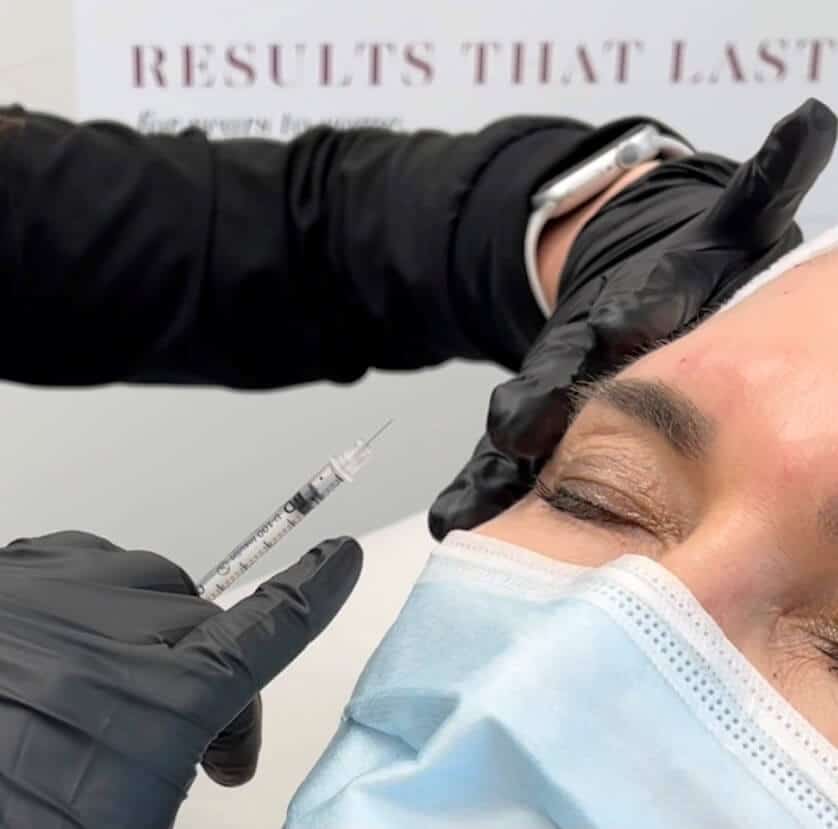 Are Injections of Botox in Calgary Right For You?
BOTOX® injections are a safe, quick, and effective way to temporarily reduce the appearance of wrinkles, fine lines, frown lines, and crow's feet. If you notice lines and wrinkles between your brows, over your forehead, and around your eyes, then Botox treatment may be an option for you! 
For improving skin health and reducing sun damage, texture, pores, discoloration, and deep wrinkles, we recommend laser and medical esthetic treatments alongside the best Botox in Calgary to maximize your treatment. 
What Areas Are With BOTOX® Treatment?
BOTOX COSMETIC® is approved to temporarily reduce muscle movement and soften the appearance of fine lines and wrinkles. The most common treatment areas Botox in Calgary used are:
Forehead

Between the eyebrows

Eyebrow lift

Around the eyes (smile lines/crow's feet)

Top sides of the nose

Chin

Masseter muscle/TMJ

Platysmal bands in the neck
What Are the Benefits Of BOTOX COSMETIC®?
Botox in Calgary has a well-earned and excellent reputation for relaxing muscles between the brows, around the eyes, and across the forehead. For instance, crow's feet after Botox treatment results in a temporary reduction in the appearance of fine lines and wrinkles in those areas.
BOTOX® is also approved and widely used to treat medical conditions such as hyperhidrosis (excessive sweating). 
Our Calgary physicians oversee all of our BOTOX COSMETIC® treatments. We ensure the wrinkle-relaxing treatment is safe and appropriate. When you meet with our team, we will assess your health and wellness and determine whether the treatment is right for you.
The average cost of a typical treatment for a frown, smile lines and across the forehead may be anywhere between $250 and $700, depending on age, skin health and rejuvenation goals.
Face Treatment $250 – $700
You may have small bumps where the injections are (similar to what a mosquito bite looks like) for a few hours after your treatment. Injection recovery protocol. Results are noticeable after a few days, and final results are seen two weeks after your treatment.
3 to 4 treatments per year
Other treatments to enhance Botox® Cosmetic
Skincare recommendations with Botox® Cosmetic
What You Can Expect from Your BOTOX® Treatment
During your consultation, we will take and review your clinical photography, discuss your concerns and goals, and provide you with a fully personalized plan. The plan includes medical-grade skin care, laser, medical aesthetic treatments, and BOTOX COSMETIC® treatment suggestions. 
Most plans include all three components of skin care, laser, and injectables, done in a step-wise approach to achieve your rejuvenation goals. Incorporating all three components will give you balanced, long-lasting, and healthy results.
The procedure itself takes about 30 minutes. To begin, we clean and disinfect the skin over the treatment area. We then prepare the product and equipment according to the medical protocols and procedures that our physicians have put in place. Lastly, we perform the BOTOX®  treatment professionally and safely.
Starting Cost of BOTOX® Treatment in Calgary
The industry average cost for Botox in Calgary is about $10 – $12 per unit. The average cost of a typical treatment for a frown, smile lines, and across the forehead may be between $250 and $700, depending on age, skin health, and rejuvenation goals.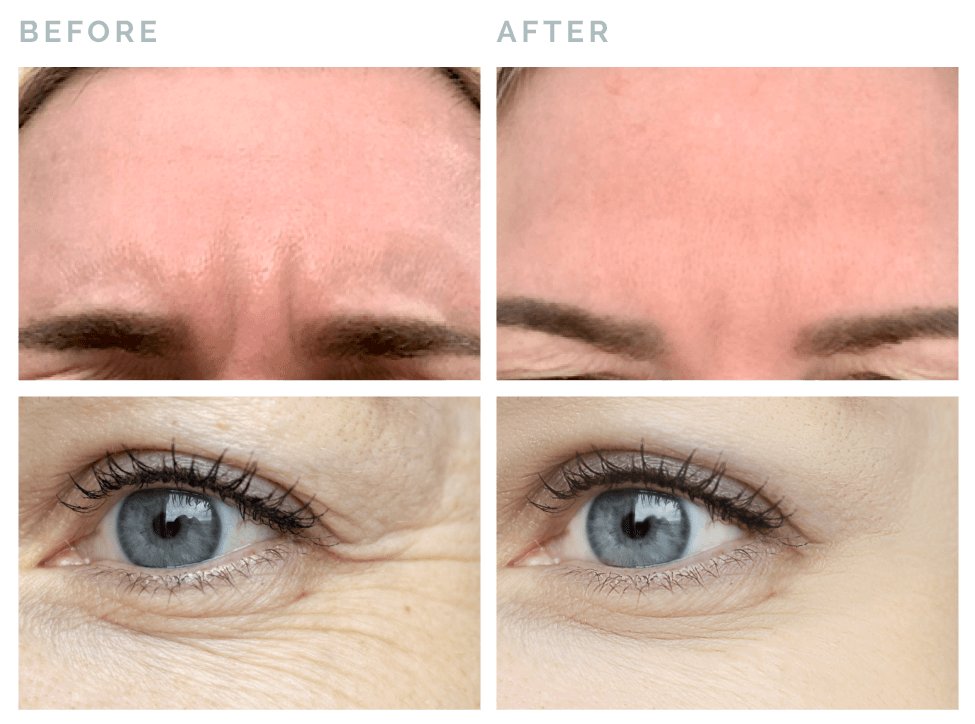 If you would like more specific pricing information about the best Botox in Calgary, don't hesitate to contact our medical spa at 403.237.8428 and schedule your consultation with our team! 
Best Botox in Calgary: Benefits of Choosing Vive®
Our medical staff at our medi spa in Calgary has administered BOTOX COSMETIC® treatments safely and effectively, and our clinic has offered the best Botox in Calgary for over 15 years. 
We are skilled and experienced in reducing the potential risks associated with the procedure. 
BOTOX COSMETIC® is a popular treatment that is regularly done by a significant percentage of our patients who want to maintain a refreshed, youthful appearance.
FAQs About Botox in Calgary
Yes! Every patient completes a medical history review to ensure no contraindications to the treatment.
We also assess the health and wellness of each patient before each procedure to ensure BOTOX COSMETIC® is always a safe treatment for them.
Onabotulinum toxin A is a purified protein and is classified as a drug. When administered carefully by a trained and experienced healthcare professional such as a physician or registered nurse injector, the treatment has predictable and safe results.
DOES BOTOX® HAVE SIDE EFFECTS?
BOTOX® is administered in small, exact dosages, according to medical protocols and procedures set by our physicians.
Common side effects of a BOTOX COSMETIC® treatment include:
pain

tenderness

redness 

inflammation

slight bleeding

mild bruising
In rare cases, reports of headache, weakness, swelling, and itching for a few hours up to a few days have been noted. We assess our patients carefully before each treatment to ensure they are well, and in addition, we review post-procedure recommendations for the best results reported.
IS THERE ANY DOWNTIME AFTER BOTOX®?
After the BOTOX® procedure, our Calgary staff will review the post-care recommendations to ensure optimal results after the procedure. We recommend being mindful of your activity for 4-6 hours after your treatment, allowing it to take effect.
Common recommendations include refraining from:
exercising

lying down

bending over

rubbing or touching the injection sites

applying makeup over the injection sites
The injection sites may be slightly raised for about an hour until the product is fully absorbed. As with any injection, you may notice tenderness, redness, and the slight possibility of mild bruising.
Most issues resolve within a few hours. By the next day, patients can usually go about their regular schedule.
WHEN SHOULD I SEE RESULTS?
The results from your Calgary BOTOX® treatment should become noticeable within 4-6 days. Over time, you should notice a gradual relaxation of the muscles that will continue until about two weeks after the initial procedure. Overall, BOTOX® is recommended as part of most rejuvenation plans as a safe and effective way to achieve a natural and refreshed appearance.
HOW LONG WILL THE RESULTS LAST?
On average, the effects of BOTOX® injections last 3-4 months. Once your injections wear off, you can contact us to book an appointment to plan your next treatment.
Book Your Consultation For
Botox in Calgary Today!
Whether you're interested in BOTOX COSMETIC® as part of your rejuvenation plan, or BOTOX® Medical for medical concerns, such as hyperhidrosis, our medical professionals will help you develop a safe and effective plan. 
Call us today at 403.237.8428 to book an appointment for BOTOX COSMETIC® treatments in Calgary and take your beauty to the next level.