Professional Dermal Filler in Calgary
Boost Your Beauty with Dermal filler in Calgary
A Minimally Invasive Way To Restore Volume & Fullness
Hyaluronic acid (HA)-based dermal filler in Calgary represent some of the most popular and successful aesthetic treatments. At Vive Med Spa, facial fillers are a staple at our Calgary medical spa and have helped many of our clients achieve their version of looking and feeling fabulous.  
Based on clinically tested and proven ingredients, dermal fillers have helped countless men and women achieve their skin rejuvenation goals for a refreshed and natural appearance.
Filler injection treatments require a full understanding of anatomy and physiology. Our qualified injectors have mastered hyaluronic acid-based treatment. Applying dermal filler in Calgary successfully for over 15 years, we follow the MD Codes technique to ensure a natural and long-lasting result. Since 2007, we've provided facial filler procedures in Calgary, giving each client an ideal, contoured, and lifted youthful appearance.
For an excellent experience with exceptional results, contact Vive for your Calgary dermal filler procedure. 403.237.8428


Dermal Fillers Help Fight Collagen Depletion
As we age, collagen production naturally slows down. That, along with sun exposure and environmental and lifestyle factors, contribute to additional collagen depletion, resulting in thinner skin, lines, and wrinkles. In addition, the subcutaneous tissue and facial fat pads shrink and change as we age, creating hollowing and sagging. 
Filler injections address these concerns to improve the appearance of lines, wrinkles, hollowing, and sagging skin.
Hyaluronic acid is a substance that retains moisture well and is produced naturally by the body in our eyes and joints. Thus, many products employ this natural wonder to promote supple, healthy skin.
The benefits of getting dermal filler in Calgary include an immediate improvement and reduction of lines, wrinkles, hollowing, and sagging. As the hyaluronic gel-like product is injected into an area to increase volume, lift, contour, and define, it also stimulates collagen renewal for a firm and natural result.
Starting at $600 depending on the treatment area and number of syringes.
24-48 hours injection protocol care. Specialized skincare and sun protection recommended.
Usually 1 – 3 treatments depending on your goals.
Other treatments to enhance fillers
Skincare recommendations with fillers:
Areas That Benefit From Dermal Fillers
Our skilled injectors have made a name for themselves by utilizing dermal filler in Calgary safely to deliver the results you desire. From their expertise, they provide definition, contouring, lifting, sculpting, and added fullness for a natural and long-lasting youthful appearance.
Dermal fillers re-balance the shape and contours of the face without the need for surgery. They also restore volume loss that occurs over time due to aging and sun exposure. 
The most common areas for facial fillers we treat are:
mid-face and cheeks

lower face and lips

chin and jawline.
As we age, our lips can lose fullness and definition. Dermal fillers are a great way to add definition and volume to your lips and naturally enhance your smile.
Our cheeks are a key feature in our appearance, but they can appear flattened and hollowed over time. Dermal fillers are a popular way to add fullness to the cheeks, lift sagging, and create a healthier, younger appearance.
Augmenting and defining the chin with dermal fillers gives balance and a youthful shape to the entire face. The chin filler in Calgary is a popular area for both our female and male clients.
Our jawline is a defining element of our overall appearance. Facial fillers are great for adding definition and sculpting to the jawline.
Fine lines and wrinkles are a result of aging, sun exposure, repeated facial movements, and a decrease in collagen production. Dermal fillers can smooth out lines and wrinkles safely and effectively with a natural-looking and refreshed result.
Want to plump thin lips, soften facial creases, or remove wrinkles? Call 403.237.8428 to book your consultation today!


Appointment For Dermal Filler in Calgary:
What to Expect
Before the treatment, we generally recommend that patients:
Feel well and not have major dental procedures or vaccinations for two weeks before or after their facial filler treatment. 

Avoid all blood-thinning medications and supplements for one week before the appointment if safe to do so, to reduce the incidence of bruising or bleeding at the injection sites. 

Avoid alcohol use before and after the procedure. 

Avoid certain herbal supplements like St. John's Wort, Ginkgo Biloba, and vitamin E.

In addition, avoid topical products that may cause the skin to be irritated, such as glycolic acid, alpha hydroxy acid (AHA), and retinol. Do not apply these products for at least four days before and after treatment.
Before the procedure, our med spa team will give you a list of recommendations to follow for the best possible results.
Post Care: After Dermal Filler in Calgary Treatment
The majority of dermal filler in Calgary results are noticed right after the procedure. The product will continue to settle and hydrate for two weeks after the treatment for a final result. This procedure has a minimal recovery time. Some patients experience injection-related redness, localized swelling, and slight bruising.
We review post-procedure recommendations to ensure you refrain from any activity that will influence the results of your dermal fillers. Please avoid:
alcohol consumption

strenuous exercise

touching or pressure on the treatment areas

makeup

or anything that will irritate the treatment area.
We recommend sun protection of SPF 30 or higher over the area, every day of the year, no matter the weather or season.
How much does Dermal Filler in Calgary Cost?
Range depends on the treatment area and package pricing: An average mid-face treatment ranges from $750 – $2200
AM I AN IDEAL CANDIDATE FOR FILLERS?
Our physician and registered nurse injector assess all dermal filler patients to ensure they are safe candidates for the procedure.  
Medical history, skin health, and rejuvenation goals are all considered part of your plan to achieve the best safe, and effective results. Pre and post-procedure recommendations are reviewed with each patient.
ARE FILLER TREATMENTS PAINFUL
The injection process for dermal fillers is largely painless, with some patients experiencing mild short-term discomfort from the needle injection. However, this discomfort typically subsides very soon after the procedure.
WHAT ARE THE SIDE EFFECTS OF DERMAL FILLERS?
Facial filler injections can sometimes come with mild side effects, including but not limited to the following:
Redness

Bruising 

Swelling

Tenderness
Some of these side effects are more common than others, but any side effects will typically clear within 3 – 5  days. Our team offers recommendations before and after your procedure to minimize the chance of mild side effects occurring.
HOW LONG DO DERMAL FILLERS LAST?
The results from a dermal filler injection can be seen instantly and will last anywhere from 12-18 months based on factors such as the treatment area, the amount of product used, metabolism, and movement.
Filler can be reversed. Our qualified filler injectors in West Calgary can reverse the treatment using a solution that dissolves the filler. After some time, the filler should completely dissolve, restoring your skin back to its previous look.
Typically, a dermal filler procedure has minimal downtime. However, because it is an injection treatment using needles and cannulas, there is always a chance of recovery time associated with redness, localized swelling, and mild bruising. Our health professionals follow strict medical protocols to reduce recovery time as much as possible. We offer pre and post-recommendations for best results.
Why Vive For Dermal Filler in Calgary?
Vive has a proven track record of providing facial fillers in Calgary, Alberta, since 2007. Our med spa team is composed of highly skilled physicians and registered nurses who have developed strict medical protocols and procedures for the health and safety of our patients. 
Our health professionals also receive continued advanced injection training to stay up-to-date on the latest, most effective methods. For the highest level of safety and exceptional results, choose a skilled and experienced qualified medical injector at Vive for your dermal filler treatments.  
When it comes to dermal filler in Calgary, our clinic ensures the highest medical standards of precision and care to ensure the health and well-being of our patients. We are a physician-owned and operated medical skin rejuvenation clinic with all safety protocols and procedures for our team and patients to feel safe and confident.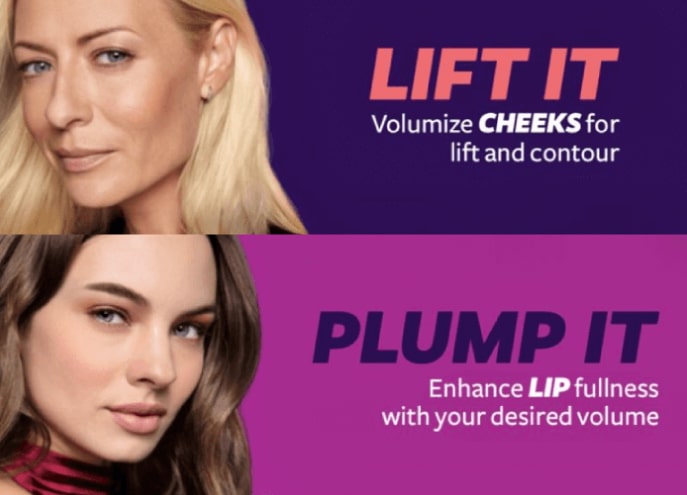 Looking For Dermal Filler in Calgary?
Book a Consult Today!
If you are considering refreshing your appearance with dermal filler in Calgary, look no further than Vive Med Spa! 
Our highly experienced staff always puts our clients' needs first. We work with you to figure out your goals and discuss treatment plans 100% customized to you. Whether you need to get tear trough or under eye filler in Calgary, our med spa team wants every experience with Vive to be one that each of our clients raves about. 
To learn more about our dermal filler in Calgary, call 403.237.8428 to book your consultation today!