Growth Factor Concentrate Injections in Calgary
What if we told you that one of the best skin rejuvenation ingredients was within your own body? Well, it's true! Growth factor concentrate (GFC) injections in Calgary are some of the fastest-growing skin and scalp rejuvenation treatments available, using the healing properties your body naturally produces. The benefits of GFC are scientifically-backed and proven to work, you may have noticed a few notable celebs having the treatment too. Book a consultation with Vive Med Spa today to learn if a GFC facial is right for you!
How Do GFC Injections Work?
Growth factor concentrate is derived from your own blood, separated from red blood cells by a centrifuge. The platelets contain growth factors, which are substances that stimulate cell growth, proliferation, and healing. When applied to certain areas of the face, neck, chest, and even the scalp, they stimulate growth and improvement in skin texture, fine lines, and overall skin quality in those areas, leading to healthy, firm, smooth skin on the face and hair follicle stimulation on the scalp.
GFC treatments help to correct volume and smooth lines and wrinkles under the eyes and over the mid and lower face. Your GFC samples are taken from your blood, they are processed together and injected into areas of volume loss, similar to dermal fillers but with a softer feel, to reshape hollowed areas and diminish fine lines and wrinkles for a smooth refreshed look. Plan for 2-4 treatments done once a month to give results that last up to one year. GFC treatments can be done on their own or in addition to dermal filler treatments with hyaluronic acid dermal fillers. For the ultimate rejuvenation treatment, considering going for growth factor concentrate injections in Calgary!
24-48 hours injection protocol care. Specialized skincare and sun protection recommended.
Start with 3 treatments done every 4 – 6 weeks and then consider maintenance.
Other recommendations to enhance GFC
Skincare recommendations with GFC
GFC injection treatments stimulate cellular regeneration to improve skin quality and minimize fine lines of the face, neck, decollete, and hands. Growth factor concentrate contains growth factors that stimulate microcirculation in the under-eye area, resulting in a brightening and smoothing effect for dark circles under the eyes. 
GFC injections for deep wrinkles help to enhance the results of laser, radiofrequency, and dermal filler treatments over nasolabial folds, cheeks, jawline, neck, decollete, around the eyes, around the mouth, and upper lip.
Uses For Growth Factor Concentrate Injections
Acne/surgical scars

Fine lines

Volume loss

Enlarged Pores

Hair restoration for alopecia; male pattern balding and female hair thinning
GFC has also been shown to work in the treatment of muscle and joint injuries, tendonitis, and other sports/work-related injuries. Even today, the full benefits of growth factor concentrate injections in Calgary are unknown as medical professionals across the globe push the boundaries of possibility.
What Does The Procedure Look Like?
Prior to the start of the procedure, we'll review your medical history and confirm you are a good candidate.  
The GFC facial process begins with your blood sample placed in a  centrifuge to isolate the platelets and growth factors that will provide all the benefits. Once the GFC is separated, we then inject small amounts evenly over the designated areas with the U225 GFC Meso Gun. The process is relatively fast, taking less than an hour to complete.
The same process can be done for the scalp to stimulate hair follicles and restore hair loss associated with male pattern balding and female hair thinning.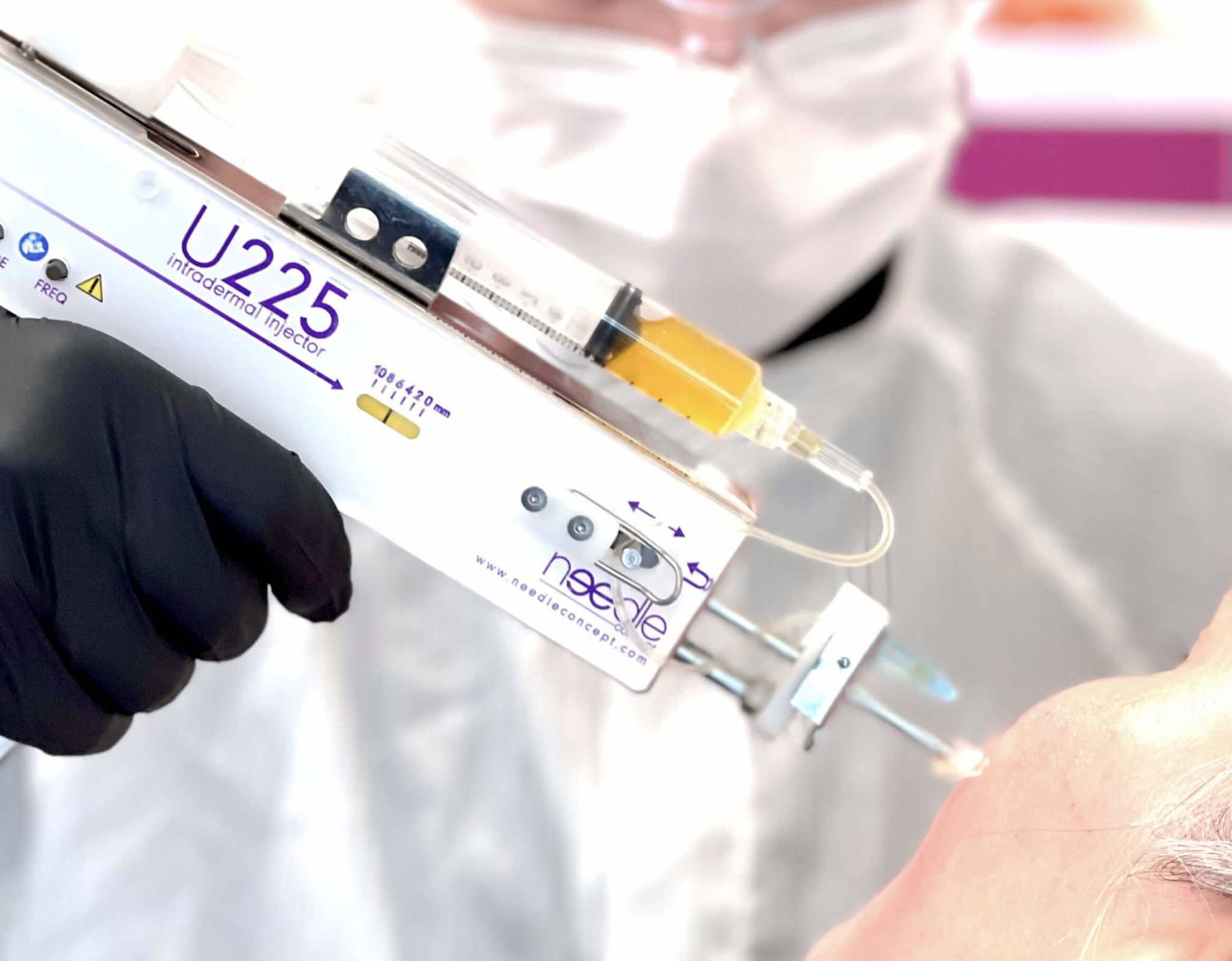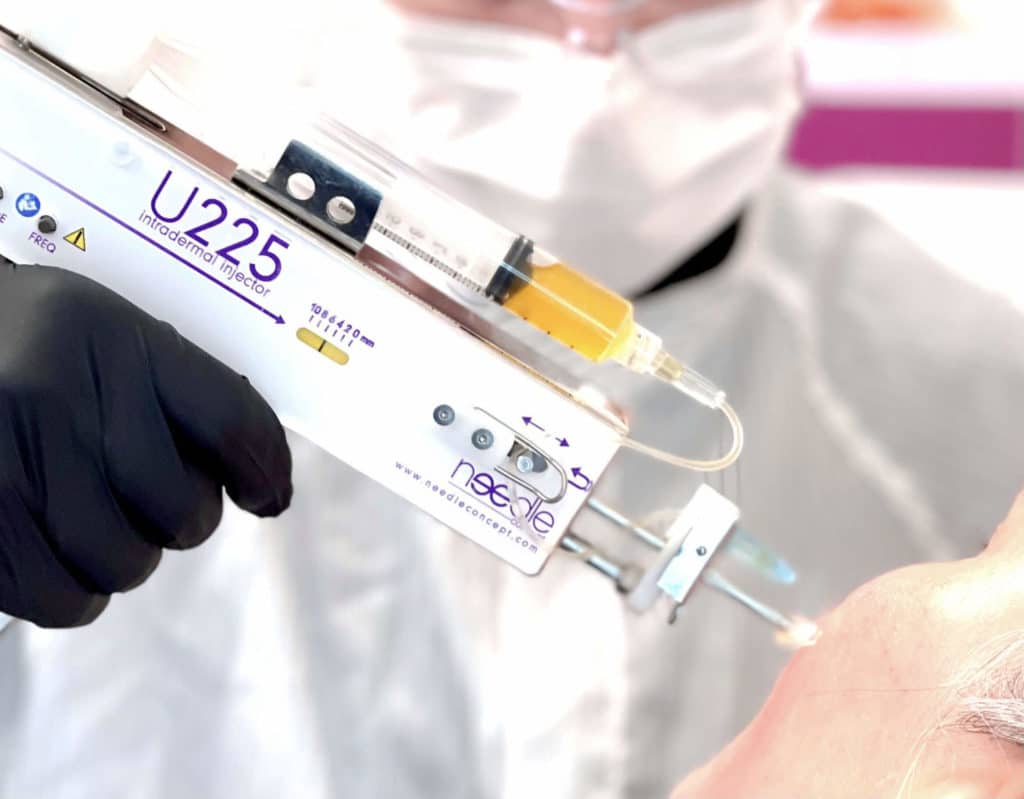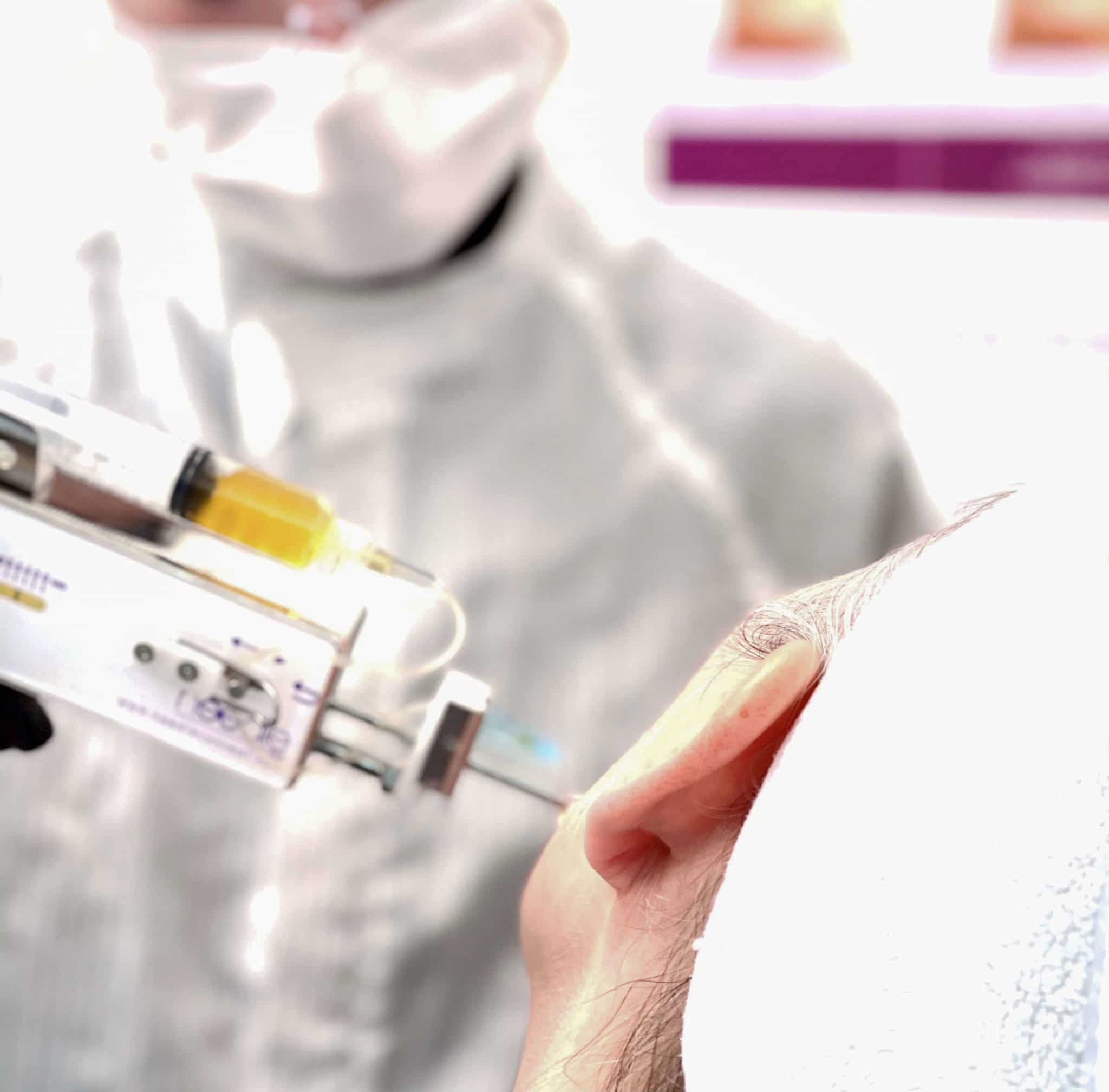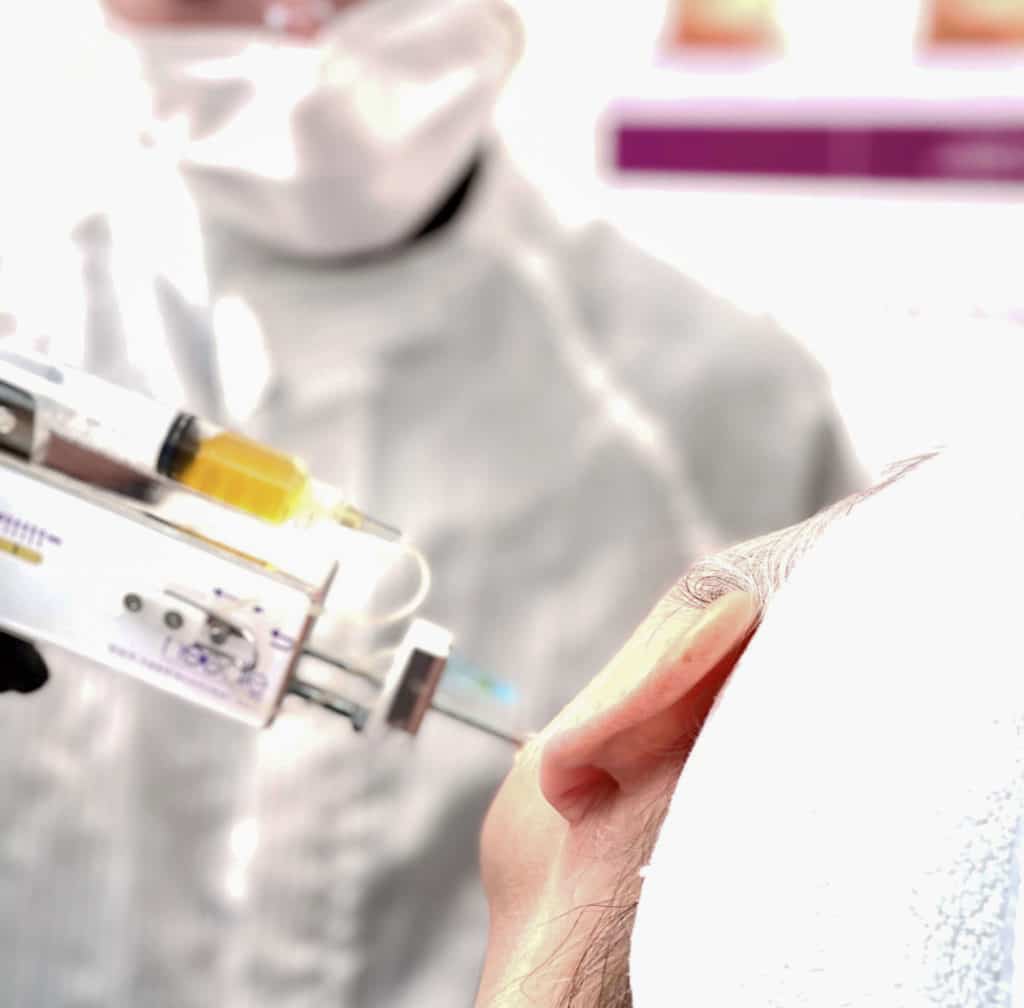 What To Expect After The Procedure?
After the procedure, the treatment area may be red, dry, and tender for 24–48 hours. We will also provide post-care recommendations that include hydrating and calming skincare products to help the skin heal.
GFC treatments are done every four to six weeks, and usually, a package of 3 will provide exceptional results. Paired with anti-aging skincare and treatments such as Laser Genesis and microneedling, GFC injections can breathe new life into your skin!
Post Procedure Instructions & Restrictions
As stated above, you will likely experience some mild discomfort in the form of tender skin immediately following the procedure. To best aid your skin during the healing process, you should drink plenty of water and eat hydrating foods. 
The following are also guidelines that we will likely recommend to maximize the benefits of the procedure: 
Avoid hot baths/saunas in the first few days after the procedure 

Try to avoid alcohol for 24-48 hours after the procedure

Avoid smoking if possible 

Do not apply ice or heat to the injection site for 48-72 hours
GFC injections are a fantastic way to harness the magic inherent to your own body to produce a vibrant, healthy look for your skin. To learn more about the procedure and how it can help you reach your beauty goals, feel free to contact us today to schedule your consultation with our team at your earliest convenience!