Calgary Laser Hair Removal
A Proven, Long-Lasting Solution To Shaving
Unwanted hair is a common problem for both men and women. We offer safe, effective, and long-lasting laser hair removal in Calgary. 
 Our technology, the Excel HR laser from Cutera, is gentle and safe enough to be used on a wide range of skin types. It also includes a cooling system that protects and cools the surface of your skin for increased comfort. 
More effective than razors, waxing, and electrolysis, this procedure offers a permanent solution to an age-old problem. Our laser hair removal services give you touchably smooth skin with a clean, well-kept appearance while reducing time spent managing unwanted hair.
Constant shaving is tedious, painful, and expensive. Call 403.237.8428 today to see how our Calgary med spa uses state-of-the-art laser technology to provide a lasting alternative to shaving the old-fashioned way!
Common Areas To Perform Laser Hair Removal
Laser hair removal can be performed on almost any area of the body. The most common areas we treat at our med spa include:
The Results Are Incredible!
Are you ready to say goodbye to unwanted hair? Give our Calgary laser hair removal specialists a call today at 403.237.8428. Take a look at our clients' incredible results. If yo are still unsure about our laser hair removal treatments, don't worry. Simply give us a call, and we will answer all your questions!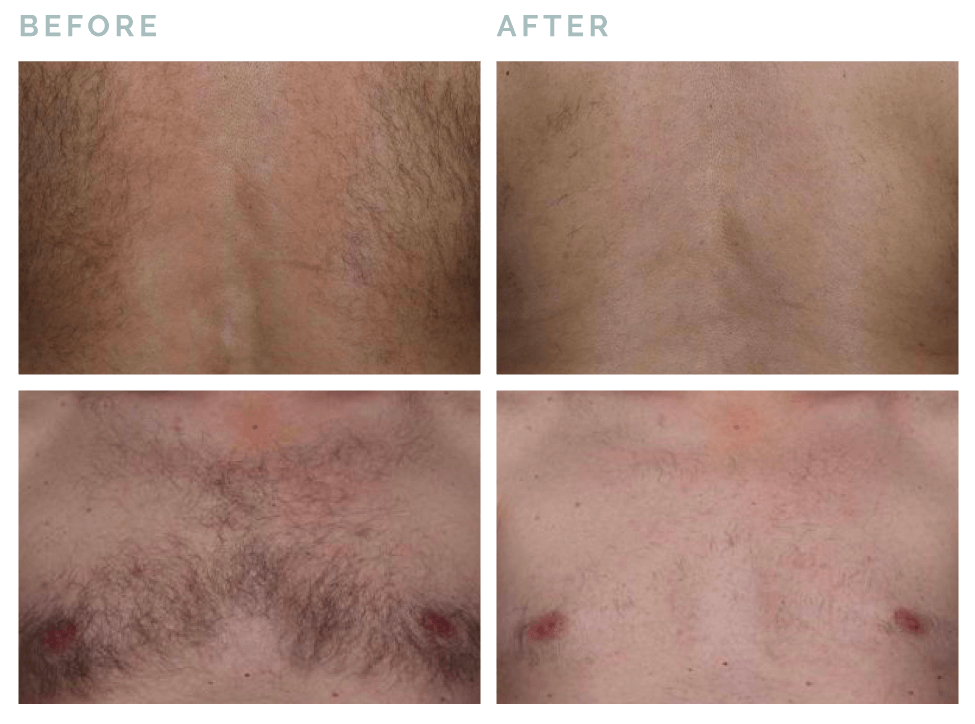 Range depending on area
$199 – $999
Minimal irritation for 24 – 48 hours after each treatment. Use sunscreen over the treated area.
Number of treatments vary depending on the area and the presentation of the hair. We will give you an estimate at your consultation. Treatment timing: Face 6-8 weeks; Underarms and bikini 6-8 weeks; back and legs 8-10 weeks.
How Does Laser Hair Removal Work?
Laser hair removal, as the name suggests, uses a laser to remove unwanted hair. A laser emits a concentrated beam of light absorbed by the hair's melanin (pigment). The light energy turns to heat, which damages the hair follicles that produce hair. This damage minimizes or eliminates future hair growth.
Typically, no. Laser hair removal generally does not require any downtime. Patients can resume their normal daily activities following the procedure. However, the treated area can be red or swollen for up to 3 days.
How Many Laser Hair Removal Treatments Do You Need?
The number of treatments is highly dependent on each patient's:
skin

hair type

amount of hair

location of hair
On average, clients need anywhere from six to nine treatments. Laser hair removal treatments are spaced out according to the hair growth cycle of the treatment area:
Face 6-8 weeks

Underarms 6-8 weeks

Bikini 6-8 weeks

Back 8-10 weeks

Legs 8-10 weeks
So, if you want a hair-free summer, you should start treatments in late fall or early winter.
After each session, our experienced technicians can reevaluate the treatment area and determine whether more treatments are needed.
Are you ready to say goodbye to unwanted hair? Call 403.237.8428 to book your consultation with a laser hair removal expert in Calgary.
Our Calgary Laser Hair Removal Technology
At Vive, we invest in the best possible equipment for our patients, which results in fewer treatments and a more enjoyable experience overall. 
The Excel® HR combines a high-power Alexandrite laser and Cutera's proven long-pulse Nd:YAG laser for safe, effective high-volume laser hair removal on all skin types. It represents the cutting edge of laser hair removal technology.
Our powerful laser demonstrates world-class performance on all skin types and tones. Its unique design, longer wavelength, and innovative cooling factors allow for highly effective, safe, and permanent results.
The laser is designed to target the pigment of the hair follicles in the skin and damage them, inhibiting hair growth and leading to lasting hair removal. The laser technology targets hair follicles by contrasting hair follicles with the skin surrounding them. This is why early removal technology worked best on those with light skin and dark hair—that contrast made targeting hair follicles more accurate.
Today's technology is much more adept on the full gamut of hair and skin type/tone, with the laser technology we use in our med spa representing the leading edge of that transformation.


Who Can Benefit From Laser Hair Removal in Calgary?
If you have unwanted hair, you're likely a candidate for laser hair removal. In the past, hair removal technology wasn't as effective for those with lighter hair or dark skin, but improvements have made this process possible for almost everyone.
While most can have laser hair treatments with no issue, some patients may need special consideration or are generally not advised to get the procedure.
Some of those clients include:
People with certain skin conditions, rash or infection

People taking certain photosensitive medications

People who are pregnant or breastfeeding
If you aren't sure if you fall into these categories, contact our leading Calgary med spa team for a consultation to help determine whether this process is right for you.
What Our Calgary Laser Hair Removal Treatment Looks Like
This treatment is relatively simple, only requiring our hair removal technology and protective goggles. Before treatment, we ask that you closely shave the desired area the night before you come in. That will make it easier to target the hair follicles in the skin. It is important not to wax or tweeze for one month before each laser hair treatment. Doing so can remove the follicles, which the laser can then not target. Keep the follicles intact! Simply shaving or snipping will be enough.
Once you arrive for your Calgary laser hair removal treatment, we will have you change into the appropriate wrap or undergarments, depending on the area we are treating. We will have you lie down, ensuring you are comfortable and put on the protective goggles. Once you are settled, we'll apply the cool ultrasound gel and use our hair removal devices to slowly target all of the desired hair. With each laser pulse, you will feel pre and post-cooling as the handpiece glides over the area.
What To Expect After Your Laser Hair Removal Treatment
After your treatment, you may have mild forms of redness, swelling, and irritation over the hair follicles in the area treated. In instances where this discomfort is more than mild, we can recommend certain creams to apply to the treated area.
Our staff will also give you a list of post-laser hair removal instructions to maximize the effects of the treatment and minimize any damage to the skin. Some of the post-care instructions we give patients include:
Gently cleanse the area with mild soap, rinse well and apply a gentle lotion without rubbing

Don't apply make-up, deodorant, lotion, or moisturizer for the first 24 hours

Avoid direct sunlight on the treatment area – avoid sun exposure 2-4 weeks before and two weeks after each treatment.

Avoid waxing, depilatories, or plucking the area – we want the hair follicles to stay intact. You may shave or snip hair between each laser treatment.

Avoid irritating the area by scratching or picking at the area

While there is no downtime, follow post-care instructions to allow the skin to heal between sessions.
Book A Laser Hair Removal Consultation in Calgary Today!
Tired of constantly shaving and ready to get rid of stubborn hair? Our state-of-the-art laser technology will give you long-term relief from unsightly hair with a smooth feel.
To learn more about laser hair removal in Calgary, call our med spa clinic at 403.237.8428 to book your consultation today!