Underarm Laser Hair Removal in Calgary
Address Underarm Hair At The Root!
When crafting the perfect look for ourselves, one thing that always seems to get in the way is hair. Of course, hair growth is perfectly natural, but it can get in the way if you have a particular look you want to achieve. One area where this is definitely the case is our underarms, but there is a way to target that hair at the root. 
At Vive Med Spa, we are proud to offer underarm laser hair removal using some of the industry's most precise technology. We have helped countless clients say goodbye to stubborn underarm hair and achieve a fabulous look! 
To begin your own underarm laser hair removal treatments in West Calgary, contact our team at 403-237-8428 today! 
The Benefits Of Underarm Laser Hair Removal
For most, the reason for underarm laser hair removal may simply come down to looks. Removing unwanted underarm hair can help you achieve a certain look or avoid feeling less than your best. However, that's not the only reason why underarm laser hair removal is popular.
Other practical benefits of underarm hair removal include:
No more ingrown hairs 

Less sweating overall

Less body odor 
If you already suffer from excessive sweating, then removing your underarm hair can be a great way to lessen its effects. Underarm laser hair removal has great functional and aesthetic benefits that make it well worth the cost. 
How Does Laser Hair Removal Work?
Laser hair removal uses the wonder of laser technology to remove hair at the root. Unlike shaving, which can only affect hair above the surface of the skin, our laser technology targets the follicles at the root of the hair. 
Specifically, our laser technology is calibrated to target the specific pigmentation of the hair follicles in contrast to the skin around them. This damages the hair follicles while leaving surrounding tissue unharmed. Damaging hair follicles inhibits future hair growth, which means smooth skin without dealing with the hassle (and sometimes pain!) of shaving.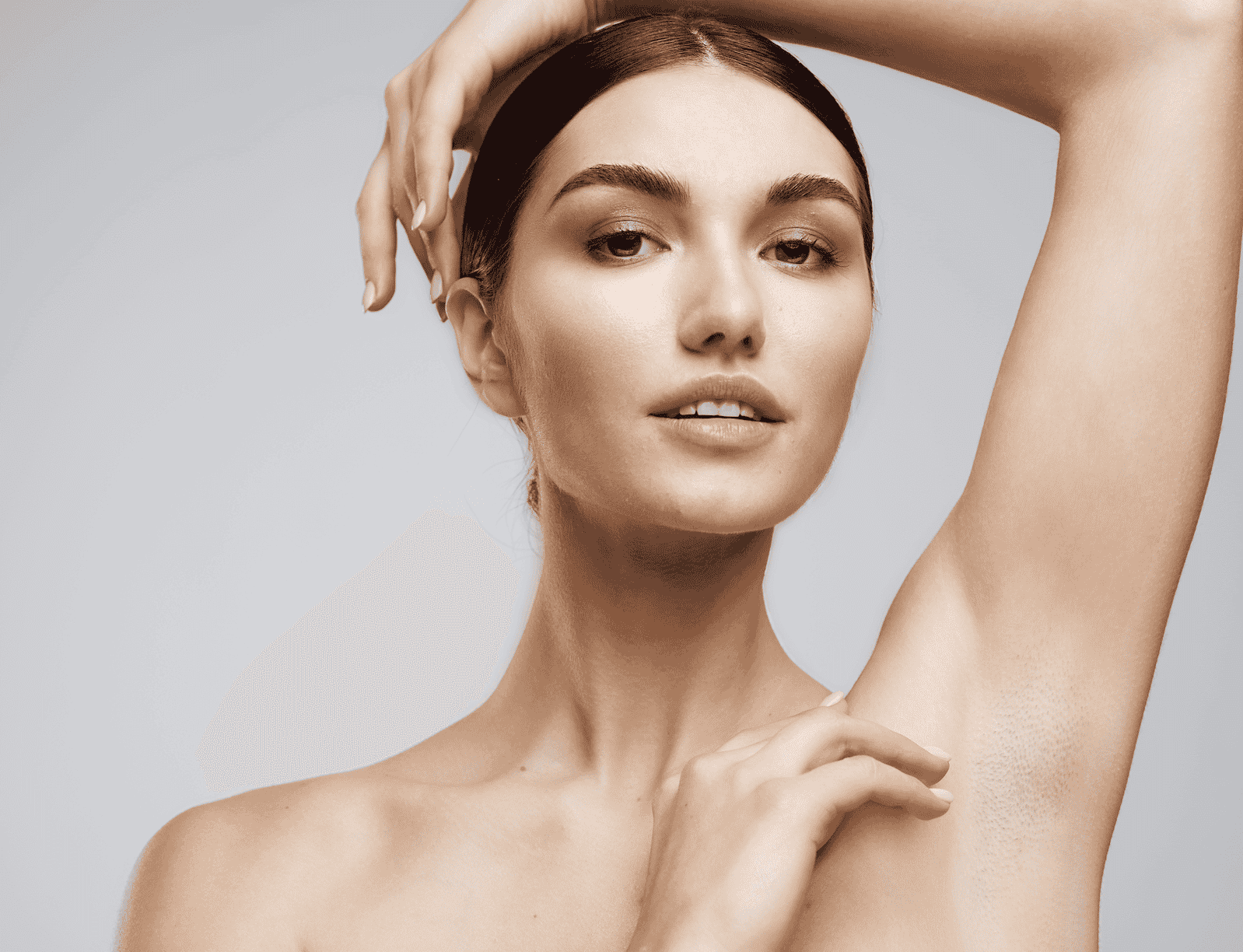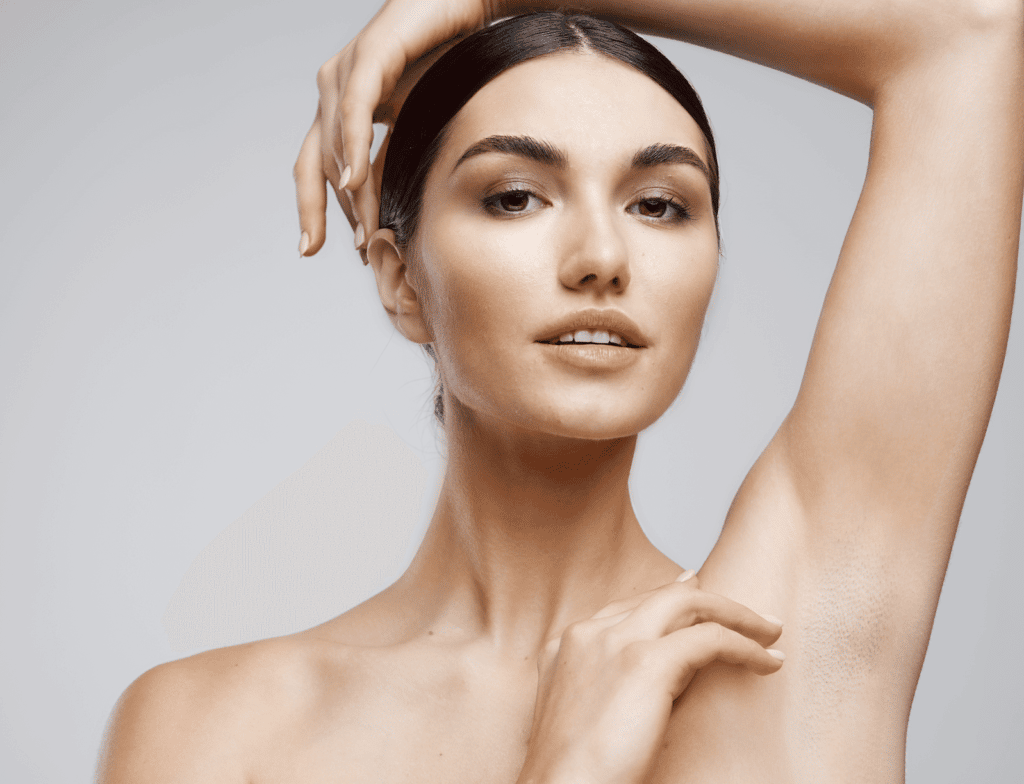 Interested in learning more about our Calgary laser hair removal services? Simply give us a call at 403-237-8428 to speak directly with our team!
Our Underarm Laser Hair Removal Process
Our process for underarm laser hair removal is simple and straightforward. The night before treatment, we ask that patients closely shave or snip the desired area so our team can target the hair follicles. 
It is vitally important that you do not tweeze, wax, or use depilatory at least one month before each session. This is because these can remove the hair follicles, which then means our laser technology has nothing to target. Instead, new follicles and hair will eventually take their place. 
How Long Until I See Results?
Most clients end up seeing results after just the first treatment! Anywhere from 1 to 3 weeks after your treatment, you will likely begin to see hair falling out of the treated area. Noticeable improvement can be seen relatively quickly, but you will need multiple treatments to get the full benefits of laser hair removal. 
As stated earlier, the full laser hair removal process takes several months, depending on several factors. Treatments have to be spaced out based on the hair growth cycle of the area being treated. In the case of underarms, you can expect 6-8 weeks between treatments. 
Potential Side Effects of Laser Hair Removal
Underarm laser hair removal has virtually no downtime, meaning you can immediately return to your normal routine after treatment. However, there may be some mild, temporary side effects after a session. You may experience the following side effects after treatment:
Redness/Irritation

Pain

Blistering

Swelling
After treatment, our team can recommend ways to address any unwanted side effects like certain creams. However, these side effects typically dissipate within a few hours or days, if they appear at all. For more information on what to expect after laser hair removal, check out our laser hair removal page! 
For more detailed information about potential side effects and treatment, contact the Calgary laser hair removal experts at Vive! 403-237-8428
The Vive Med Spa Difference
To make the process of laser hair removal easier and more enjoyable, our team only uses the best equipment and techniques. In terms of tech, we use the Excel® HR, which combines a high-power laser, long-pulse laser, and cutting-edge detection technology to support all skin types. Combined with seasoned laser hair removal experts, our team is confident in our ability to provide top-tier laser hair removal in Calgary.
Choose Vive For Your Underarm Treatments!
Ready to stop shaving that stubborn underarm hair? We'd love to help! Contact us today to book a consultation and begin the laser hair removal process!