Professional Body Contouring
As we age and our bodies change, the appearance of sagging skin, cellulite, and wrinkles become more noticeable. A healthy diet and regular exercise are great tools to fight these concerns, but some problem areas may need extra attention. That's where Venus Legacy™ comes in. Venus Legacy™ is an advanced, body contouring treatment, using radio frequency and electromagnetic fields with deep penetration to tighten skin and reduce cellulite.
The face, neck, arms, abdomen, flanks, back, buttocks and thighs are the most common areas we notice loose skin and wrinkles; Venus Legacy™ can be used on all these areas. Venus Legacy™ treatments provide long term solutions to tighten loose skin and contour the face and body for a slim and trim result.
Venus Legacy: Tighten Your Skin With Radio Frequency Generated Heat
Venus Legacy™ delivers safe and effective treatments that contour the body, smoothen out cellulite, tighten sagging skin, and reduce fine lines and wrinkles on the face and body comfortably on all skin types. In contrast to Coolsculpting®, Venus Legacy™ uses the power of heat to help you tighten loose skin over problem areas. Together, Coolsculpting® and Venus Legacy™ can help you reach your body contouring goals.


Range $1500 – $3500 per treatment area depending on age, size and package pricing.
The treated area may be pink and warm, which will dissipate within a few hours. You can resume normal activities right after each treatment.
We recommend a package of 6 – 10 treatments done weekly.
How Does Venus Legacy™ Work?
Venus Legacy™ uses Multi-Polar Radio Frequency and Pulsed Electromagnetic Fields to produce heat under the skin's surface to build collagen, elastin, and fibroblasts (skin cells). By triggering these biological processes, the body's healing processes are activated, aided by the improved blood flow to the target area.
The result is a face and body that looks slimmer and more sculpted, skin that looks tighter, and cellulite that almost disappears. The most common areas to treat with Venus Legacy™ are face and neck, upper arms, abdomen and flanks, buttocks and thighs. Venus Legacy™ is recommended after CoolSculpting® if you notice loose skin after fat reduction, or it can be used as a stand-alone treatment.
Yes! Numerous scientific studies have proven that Venus Legacy™ is a completely safe and effective procedure. Since the technology uses radio frequency and magnetic fields, it should have no adverse effects on skin and tissue. However, people with the following health conditions may need special consideration:
Active inflammation or infection around the treatment area
An internal defibrillator or pacemaker
Metal implants (excluding dental) in or around the treatment area
Pregnancy or breastfeeding
Skin-related auto-immune diseases
If you aren't sure whether you should have Venus Legacy™ treatments, our physician injectors will review your medical history and help determine if it's right for you.
Nope! Just like Coolsculpting®, Venus Legacy™ treatments have no downtime, allowing you to continue your normal routine as soon as you leave the clinic.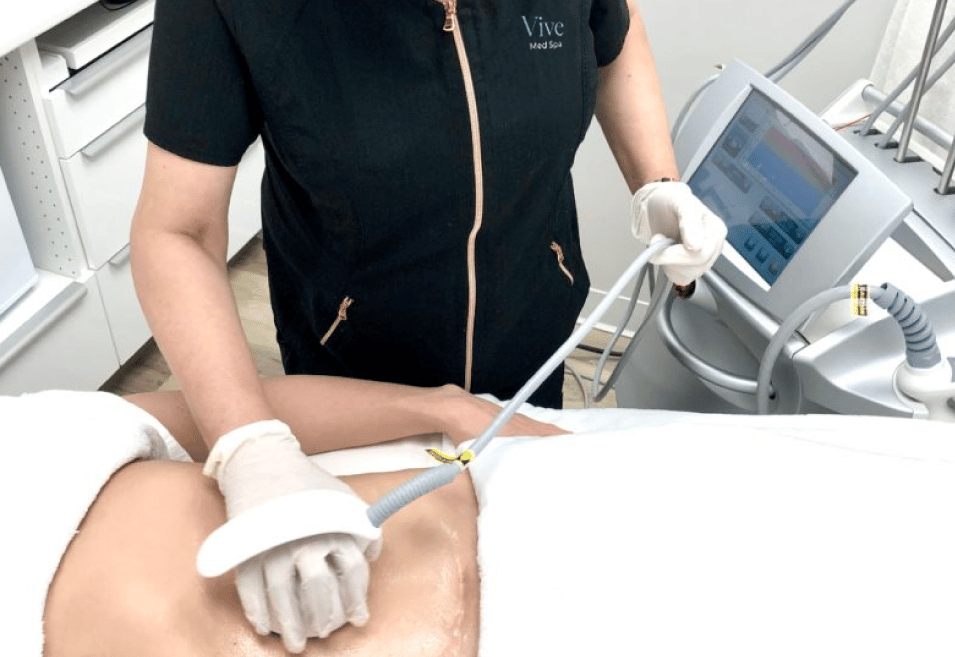 What Does The Process Look Like?
The Venus Legacy™ treatment begins with consultation and planning, where we identify the areas of concern. Once we've developed your treatment plan, you are ready to start! . The device, using radiofrequency, creates a thermal reaction in the tissue. The heat is relatively robust and relaxing, often compared to a hot stone massage.
The treatment will last anywhere from 30 to 45 minutes, and depending on the degree of laxity and age, we will recommend a package of 6 – 10 treatments done weekly. After you have completed your package, you'll be ready to reap the benefits of this transformative technology!
What To Expect After The Procedure
After treatment, most clients confess that they feel relaxed and rejuvenated. The target area may be slightly pink and warm, but that will dissipate shortly after treatment. There are no side effects associated with Venus Legacy™, so you can continue normal life as soon as you leave our clinic. Lotion, makeup, and other cosmetics can be applied immediately following the procedure.
Most patients will require anywhere from 6 to 10 treatments, depending on their age and degree of laxity, to reap the full benefits of the technology. Our clinicians will develop a personalized plan for you to get the most of the Venus Legacy™ Procedure.
Do I need to follow a special diet or exercise regimen after Venus Legacy™?
Regardless of the procedure or product, our physicians always recommend basic tips for a healthy lifestyle including:
A balanced, low-fat diet with plenty of vegetables, lean protein, and assorted fruit. The Mediterranean diet is a great example.
Reduction of the consumption of processed foods, sugary drinks, high fat protein, and alcohol, which harm short and long-term health.
A regular exercise regimen—daily if possible—to support a healthy heart, strong bones and good muscle strength.
A focus on staying hydrated by drinking a lot of water and eating hydrating foods daily.
A good diet and exercise routine will help to enhance and maintain the results with Venus Legacy™.
Does Venus Legacy™ need to be paired with Coolsculpting®?
Venus Legacy™ can be a great complementary procedure to Coolsculpting depending on factors like age and skin laxity. If you notice loose skin after Coolsculpting treatments, our staff may recommend Venus Legacy™ to tighten the target area.
Book A Consultation Today!
Interested in using Venus Legacy™ to reach your skin tightening goals for a trim figure? The Vive Med Spa team is ready to help you reach your goals today! Simply book a consultation with us to learn how Venus Legacy™ can help you!