Skincare for men is an absolutely booming industry, seeing massive jumps from year to year. The stigma around skincare, aesthetics, and men's health has been slowly fading away over time, with over 80% of men between 18 and 44 using some sort of skincare product and regularly using aesthetic services. 
For the men who don't use skincare products yet, they often think they'll need some elaborate 40-minute routine. Trust us, it doesn't have to be that complicated. In this Vive Med Spa blog, we discuss the best skincare products for you, and how you can seamlessly integrate them into your routine, along with recommendations for the best treatments to keep you looking and feeling fabulous!  
Sunscreen, Sunscreen, Sunscreen
This may seem like a no-brainer to some of our readers, but anyone who's been around boys will know that they often don't want to put on sunscreen. Unfortunately, that reticence towards sunscreen can follow those boys into manhood, which is not good for your skin. 
Sunscreen acts as a barrier for your skin against harmful UV rays, which cause skin damage, skin cancer, eye damage, and signs of premature aging such as fine lines, wrinkles, texture, and loose sagging skin. Start using sunscreen now, and make it a part of your daily regimen. Don't think that being young will save you, either—even people in their late 20s can develop these issues. 
Vive Med Spa offers sunscreens in a variety of formulations to match your skin type and preference in order to keep your skin protected, healthy, and happy while you are out and about. Our doctors recommend a daily application of at least SPF 30 to your face every day of the year, no matter the weather or the season. Re-apply to all exposed areas when you are outside for prolonged periods of more than 1-2 hours. Wear a hat with a 2-inch brim all around, and stylish or sporty sunglasses with UVA/UVB protection is a must. 
Check out our sunscreens in the VIVE SHOP 
Vive's top picks: 
Vivier Spf 30 Lotion: Apply in the morning over your face and neck after you cleanse and shave – it is a light moisturizer with a built-in SPF 30 and non-irritating

SkinMedica Total Defense and Repair:

A moisturizing and antiaging sunscreen

ZO Skin Health Sheer Defense
 

Face Cleanser
If you're new to the world of skincare, you may still be using your body wash or shampoo to wash your face. That's a no-go. You should have a dedicated face wash to wash your face. This is because the skin on your face is slightly thinner and more sensitive than the skin on your body. A facial cleanser will remove surface dirt, oils, and sweat, clean your pores and possibly reduce irritation from shaving.  Vive has a great selection of cleansers that are right for all skin types, and the right cleanser goes a long way in improving skin health and appearance. 
Check out our full range of cleansers on VIVE SHOP
Vive's top picks:  
ZO Skin Health Exfoliating Cleanser, Vivier Hexam Cleanser, Vivier Medicated Wash, and SkinMedica AHA/BHA for deep cleaning and gentle exfoliation for combination to oily skin.

ZO Skin Health Gentle Cleanser, Vivier Foaming Cleanser, and SkinMedica Facial Cleanser for normal to dry skin.
          

Acne Alert
If you have ongoing breakouts and acne on the face, back, or chest, you may benefit from specific products to help keep acne under control.  Benzoyl peroxide, Alpha and Beta Hydroxy Acid, Retinol, and prescription products are all part of the stepwise process to manage acne and Vive has them all.  Uncontrolled acne at any age affects self-esteem and can lead to scarring. The Vive medical team specializes in acne management for all ages, and we will help you get acne under control.  
View our acne management products on VIVE SHOP
Retinol Cream
A big name in the skincare game is Retinol, and it can be found in many professional-grade products that are easy to incorporate into your daily routine.  Retinol is an anti-aging molecule and is a type of retinoid derived from vitamin A. Retinol is clinically proven to boost collagen, improve skin tone and texture, and reduce pigmentation for a clear, smooth, and firm appearance.  Apply these products at night a few times a week, and then gradually work up to a nightly application every day of the week. 
Vive's top picks:  
ZO Skin Health Wrinkle + Texture Repair 0.5%

Vivier Retinol .3% to 1%

SkinMedica Retinol .25% to 1%

                         
Exfoliation Products
Exfoliants help unclog pores and get rid of old, flaky skin to reveal a healthier, smoother, and brighter complexion.  Exfoliants are great by themselves but really shine by enhancing all of the other products that you use. 
Exfoliation products can be broken down into physical and chemical exfoliation. Physical exfoliation is the use of a physical ingredient that manually exfoliates your skin, while chemical exfoliation uses active ingredients in a cream or lotion to lift off skin cells.   
Visit VIVE SHOP to view our exfoliation products
Vive's top picks:
ZO Skin Health Exfoliating Polish


ZO Skin Health Exfoliation Accelerator 

Vivier Vitamin C Scrub

Vivier Exfoliant Forte 


             
Eye Creams 
The skin around the eye is thinner and more delicate and it's an area where men start to notice fine lines and crow's feet.  We recommend using professional-grade eye creams from our skincare lines to rejuvenate, boost collagen, protect and hydrate the skin around the eyes for a more youthful appearance. Don't forget to apply sunscreen and wear sunglasses with UVA/UVB protection! 
Look for eye creams in VIVE SHOP
Vive's top picks:
Vivier GrenzCine Eye


ZO SkinHealth Growth Factor Serum Eye

SkinMedica TNS Eye Repair




Medical Aesthetics are a must-have for men in 2021.  We offer a full menu of services to address all concerns.  Here are a few top picks: 
OxyGeneo Super Facial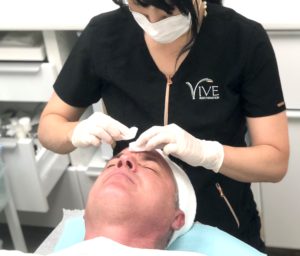 The OxyGeneo Super Facial incorporates exfoliation, extractions, oxygenation, and infusion of active ingredients designed to rejuvenate and refresh your skin. The OxyGeneo Facial offers a selection of ingredients that we personalize for your skin concerns including oily or acne-prone skin, hyperpigmentation, brown discoloration, and dry aging skin for the face, as well as neck, chest, and back depending on your concerns.  We recommend an OxyGeneo once every 4 – 6 weeks to keep skin looking fresh, hydrated, and smooth. It is a relaxing but clinically effective treatment that lasts an hour and there is no downtime, you walk out looking smooth and dapper, ready for anything.
Visit our OxyGeneo Super Facial Page!
Micro-needling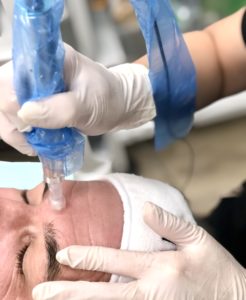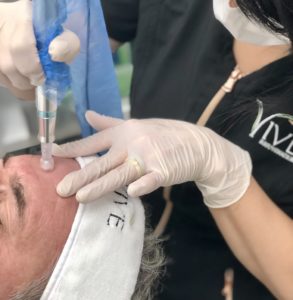 When it comes to minimally invasive treatments with maximal benefits, Micro-needling Collagen Induction therapy with the Dermaroller® is clinically proven and is perhaps the most successful treatment available for the common signs of aging such as wrinkles, loss of skin volume, and crepey skin. In addition, we have great success in reducing scarring, acne scarring, and texture. Micro-needling triggers the body's healing process, stimulating cell proliferation and causing the formation of new collagen which contributes to smooth, firm skin.  We apply a topical numbing cream so it is very comfortable, it takes about an hour, and the recovery is short and very manageable. Plan on 1 – 3 treatments, depending on your goals.
Visit our micro-needling page!
Botox®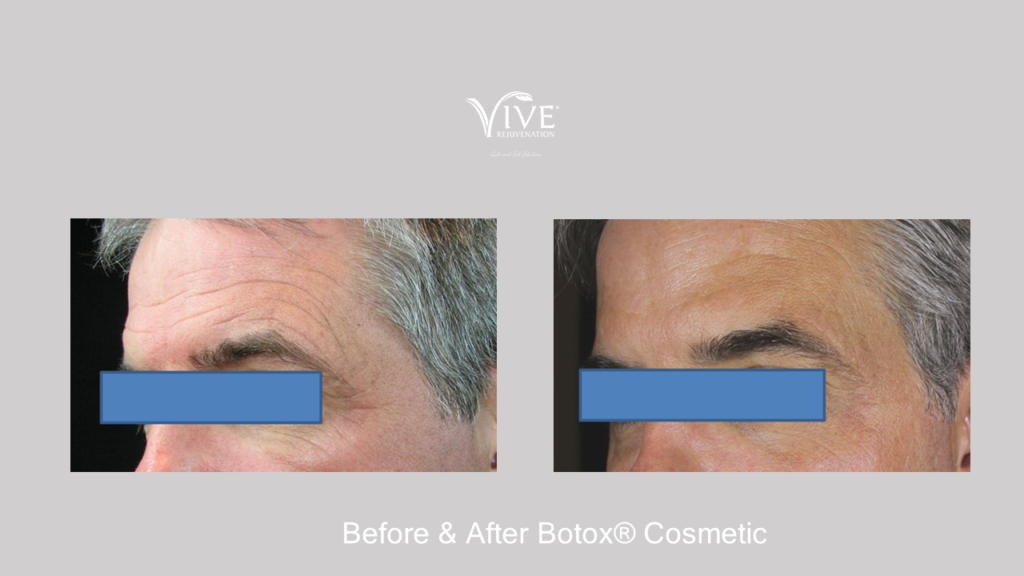 More men are getting regular Botox Cosmetic treatments, and they site wanting to look more relaxed and refreshed, competition at work and confidence as motivating factors. Botox works by temporarily relaxing muscles in the face that cause frown lines between the brows, horizontal lines across the forehead, and crow's feet around the eyes, which all contribute to a negative or tired look. When those muscles are relaxed, the fine lines and wrinkles are softened for a more refreshed but natural appearance. 
Botox isn't permanent; a treatment lasts about 3-4 months so our doctors recommend regularly scheduled appointments 3 or 4 times a year to maintain the result. Luckily Botox is affordable and each procedure is quick and easy. Treatment can be done in about 30 minutes, so it is easy to fit in on your lunch hour or on your way home from work. Botox is safe and effective with a long history of clinical research, but it is important to meet with one of our doctors to ensure you are a safe candidate, as with any drug, before you get this treatment. 
CoolSculpting®
Ageing, weight fluctuations, changes in muscle mass, exercise frequency, and genetics may all have an effect on your body shape. A healthy balanced diet, maintaining your weight, and being committed to daily regular exercise contribute to having a trim figure. We may need extra help over particular areas where we tend to have diet-resistant fat pads. For men, under the chin and jawline is very common, along with flanks, the back, and the abdomen.  Treatments provide long term solutions to reduce stubborn fat, contour your body, and help maintain a trim figure. The treatment is comfortable; there is no downtime, so you can maintain your daily routine. 
Trust Vive For Your Complete Skin Care and Aesthetic Needs! 
Skincare and aesthetics for men don't have to be complicated. Hopefully, our recommendations will help you get started on your 2021 plan to achieve your version of looking and feeling your best.  
Contact us today to schedule a consultation with our team to discuss your concerns and make a personalized plan to achieve your goals.