Are you looking to improve your skin's texture, tone, and overall health? Do you wonder where you could find treatments to address them that are safe and effective? If so, you should visit a medi spa in Calgary with laser and light treatments as potential options. At Vive Med Spa, we offer various treatments, such as Pearl Laser Resurfacing, Limelight, PICO Genesis, and Laser Genesis in Calgary, to help you achieve your skincare goals. Learn everything you need to know about these treatments here to choose the right one to address your concerns and maintain the best results.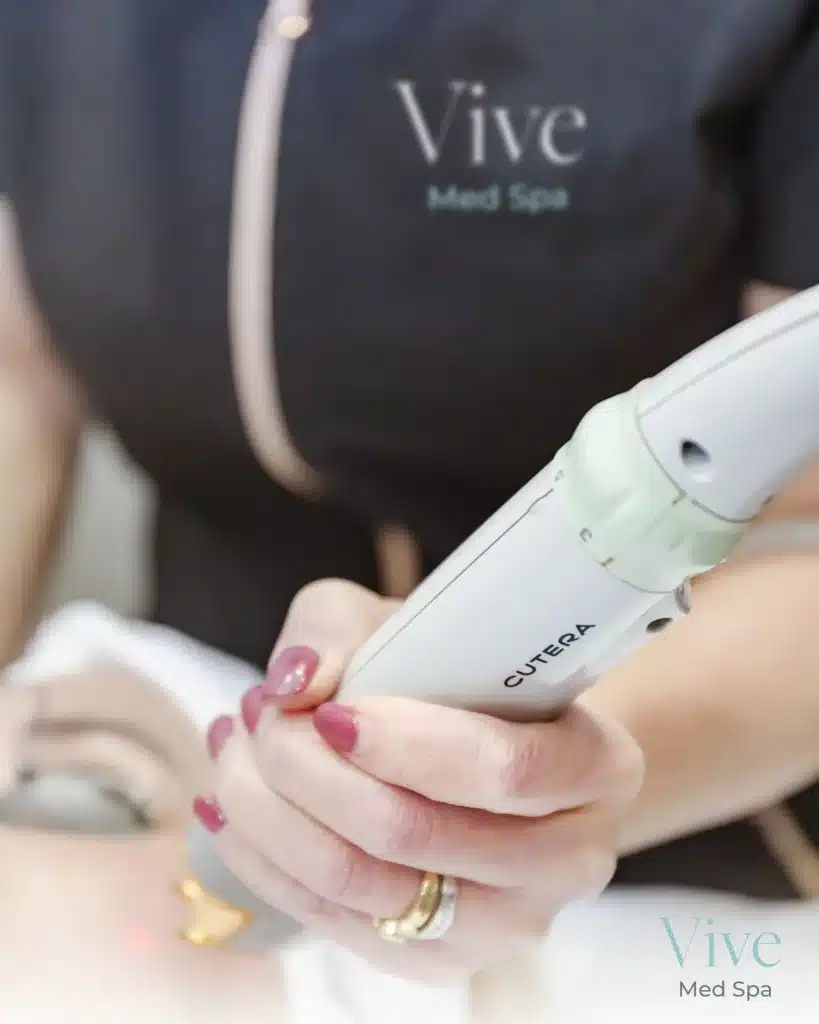 How Laser Treatments Zap Imperfections & Rejuvenate 
Laser treatments target specific skin concerns, such as red and brown discoloration, rough texture, and laxity issues like fine lines and skin thinning. These treatments work by using specific and safe laser wavelengths that target the skin cells to promote collagen production and increase cell turnover, which results in a smooth, clear, and bright complexion.
Top Laser Treatments at Our Medi Spa in Calgary
At Vive Med Spa, we offer popular laser treatments like Pearl Laser Resurfacing, PICO Genesis, and Laser Genesis in Calgary. Each of these treatments can address unique skin concerns. For instance:
Pearl Laser Resurfacing:

Are you starting to see the signs of aging? Pearl Laser Resurfacing is excellent for maintaining your youthful complexion. Not only that, it's brilliant against scarring and sun-damaged skin. 

PICO Genesis:

Unique facial flaws can seem difficult to address. Thankfully, PICO Genesis is a versatile treatment that can help reduce the look of unwanted freckles, sun spots, age spots, and even skin conditions like Melasma. 

Laser Genesis:

Lastly, Laser Genesis in Calgary targets fine lines, large pores, uneven skin texture, diffuse redness, Rosacea, and scars. After this laser skin treatment, you will have a more even, smoother, and brighter complexion. Ultimately, getting Laser Genesis in Calgary is a rather versatile treatment option.  
Illuminating Light-Based Treatments Rejuvenating Power
Light-based treatments like Intense Pulsed Light therapy (IPL) are also safe and effective options for improving skin texture and tone. IPL targets the upper layers of the skin cells using specific wavelengths of light to reduce brown or red discoloration and improve texture and tone. The Limelight Facial IPL is an excellent option for addressing redness, spider veins, brown spots, sun damage, and pigment changes.
Best Post-Care Treatment: Medical Grade Skincare
The most foundational tip we can give is to use medical-grade skincare daily to maintain results. You might wonder: what makes medical-grade products different from your conventional skincare products in-store? Medical-grade products are results-driven formulations that do so much for your skin's health.  It helps balance your skin's pH levels, promotes collagen renewal, protects your healing cells, prevents further damage, increases skin cell turnover, and keeps your skin hydrated for efficient healing and lasting results.
Post-Care Treatment Tips By a Medi Spa in Calgary
Here are a few tips on how to use medical-grade skin care products and more to ensure you achieve the results you want after laser or light-based treatment:
Tip #1: Use a Gentle Cleanser
After treatment, you don't want to irritate your skin further with a harsh cleanser. From the advice of your practitioner, use a gentle cleanser in the evening or the next day post-treatment. We recommend the following medical-grade cleansers:
Vivier Ultra Foaming Cleanser & Vivier Hexam Cleanser

ZO Skin Health Balancing Cleansing Emulsion Cleanser & Gentle Cleanser

Alumier Sensi Calm Cleanser & Purifying Gel Cleanser
Tip #2: Apply a Non-Irritating Moisturizer
No matter your skin type, we can't stress the importance of moisturizing. Post-treatment, you will want to apply a gentle and non-irritating moisturizer to protect, promote healing and keep your skin hydrated. We recommend the following medical-grade moisture cream: 
ZO Skin Health Hydrating, Renewal & Recovery Crèmes

Alumier Recovery Balm or Hydra Calm

Vivier Lexxel,

DermaV & Ultimage
Tip #3: Use SPF 40 Sunscreen Daily
One of the cardinal rules of skincare is to apply sunscreen. After a light and laser treatment, you must use at least SPF 40 or higher sun protection. Your skin is already sensitive post-laser, so it is important to invest in good physical/mineral sunscreen to protect your skin from harmful UV rays. We recommend the following: 
Vivier Sheer Broad Spectrum SPF 45

Alumier Sheer Hydration Broad Spectrum SPF 40 & Clear Shield Broad Spectrum SPF 42

ZO Skin Health Daily Sheer Broad Spectrum SPF 50
Look for the ingredients iron oxide & titanium dioxide in your SPF. Studies show mineral components can block visible light, which traditional chemical sunscreen cannot do. 
Tip #4: Applying Antioxidant Vitamin C Serum Daily
The best way to speed up healing and maintain results is by applying an antioxidant Vitamin C Serum daily. Why? It enhances recovery after treatment, protects collagen and further reduces signs of aging. We recommend the following to help:
Vivier QuintiSerum™,

GrezCine Serum & C E Peptides Serum

Alumier EverActive C&E™ + Peptide Serum & Alumier A.G.E Serum

ZO Skin Health Illuminating AOX Serum & Daily Power Defense
Tip #5: Start Incorporating Retinol
Many might struggle to figure out how to incorporate retinol into their skincare routine. However, after treatment, it's important to include retinol since it boosts collagen and promotes cellular renewal to maintain results. Start at a lower dose of retinol and increase slowly over several weeks as your skin becomes accustomed to the increased rate of cellular regeneration. We recommend:
ZO Wrinkle & Texture Repair

Alumier Retinol Resurfacing Serum

Vivier Retinol .5%
Tip #6: Avoid Sun Exposure 
Having the right sunscreen after treatment, it's also important to go the extra mile to ensure your desired results. You should wear a brimmed hat and UVA/UVB protective sunglasses to avoid direct sun exposure on your face and neck. 
Tip #7: Clean Makeup
Skin issues can occur from makeup buildup. Naturally, you want to avoid this after treatment. When applying makeup, be mindful of keeping your makeup brushes or sponges clean. We recommend you regularly clean your tools before touching up your makeup after your treatments to avoid possible infection and irritation from bacteria.
Why Following Up at a Medi Spa in Calgary 
It's important to be consistent with your light & laser treatments to maintain your skin investment. As we age, the skin's ability to regenerate slows down. Whether you're getting Laser Genesis in Calgary or other light treatment options, maintenance treatments like  are needed to achieve long-lasting results. At Vive Med Spa, our goal is to work with you to help you age as slowly and gracefully as possible, and we suggest you meet with our clinicians to plan your maintenance appointments. With our roots in Family Medicine, we're a client-focused medi spa in Calgary that provides you with the best products in advanced skincare along with individualized treatments tailored to meet your specific needs. 
Brighten Up & Light Up at Our Medi Spa in Calgary
The Vive experience is different for every individual, and we'll help and encourage you along the way, recognizing that your journey does not begin and end with any one treatment. Our medi spa in Calgary is excited and honoured to work alongside you to help you reach your goals. Whether it's to get Laser Genesis in Calgary to other light treatment options, we're here to celebrate your success and realize your full potential every step of the way. 
Reveal the best version of yourself at Vive Med Spa, the premier medi spa in Calgary! Experience luxury in our boutique setting, offering various top-notch treatments. Choose lip filler & lip injections in Calgary with our selection of the best Botox, Revanesse filler, Nuceiva, & Juvederm in Calgary. Combat stubborn fat with results-driven fat freezing CoolSculpting or Belkrya in Calgary that makes the Belkrya cost in Calgary worth it. Our laser services also provide effective solutions for hair & tattoo removal in Calgary to laser genesis and vein removal in Calgary. Discover Vivierskin, Latisse, ZO Skin Health, & Skin Medica in Calgary with us to help you enhance your beauty. Begin your journey with us today – call 403-237-8428!